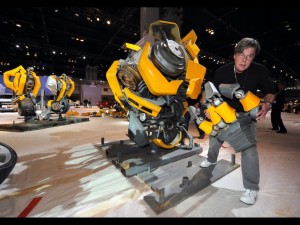 Quite a lot is happening around bumblebee these days…
I know that I haven't been very active lately, partly due to vacation…
I've also been doing a lot of thinking about the way that bumblebee has been implemented.. The popularity really surprised me, and looking back a LOT of things where done too quickly and implemented wrong.. All in all it seems like every bugs-fix, triggered two new bugs…
I also allowed a lot of people to contribute to the project which, with all respect to their work, at times made me feel like I lost control a little over which way bumblebee was "flying"… I think this also was a reason why I lost some inspiration…
What is happening right now is that:
A lot of the people who has been contributing to the bumblebee-project, is now starting over from scratch in one combined project: https://github.com/Bumblebee-Project
Right now, I have chosen not to contribute to the Bumblebee-project, and try some stuff out on my own… nothing has really been published : https://github.com/MrMEEE/ironhide, this will include a graphical bumblebee setup and probably extentions to bumblebee-ui.. This project will probably be renamed to distinguish the two.. but just to be clear, I much appreciate the work the other guys are doing and there is no bad air between us.. I just need some "creative" time off…
So, right now, yes… things are broken, both in the ppa and in the git versions.. I hope that the above efforts will solve this as soon as possible, and a BIG thanks to every tester, contributor, programmer and user of bumblebee out there..